TIMSS 2007 Encyclopedia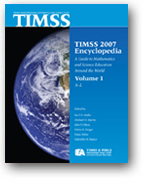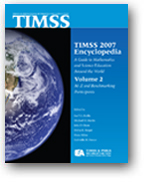 TIMSS 2007 Encyclopedia: A Guide to Mathematics and Science Education Around the World, Volumes 1 and 2
Edited by Mullis, I.V.S., Martin, M.O., Olson, J.F., Berger, D.R., Milne, D., & Stanco, G.M. (2008). Chestnut Hill, MA: TIMSS & PIRLS International Study Center, Boston College.
The TIMSS 2007 Encyclopedia describes the national contexts for teaching and learning in mathematics and science education in the countries that participated in TIMSS 2007. To provide an overview of the context in which mathematics and science instruction takes place, nearly all of the TIMSS 2007 countries and benchmarking participants prepared a chapter summarizing the structure of their education systems, the mathematics and science curricula and instruction in primary and secondary grades, the teacher education requirements, and the types of examinations and assessments employed. Together with selected introductory data about the countries collected via questionnaires, the chapters comprising the two volumes of the TIMSS 2007 Encyclopedia provide an important resource for helping to understand the context for the teaching and learning of mathematics and science around the world, with particular emphasis on schooling through the eighth grade.
Download Files
Publications are available in Portable Document Format (PDF). You may need to download a copy of Adobe Acrobat Reader to enable you to read and print the reports.
If you need to download a free copy of Adobe Acrobat Reader© which will enable you to read and print the reports, press the icon below.

The Encyclopedia also is available in a printed and bound two-volume set, which can be ordered for a fee of US$40. Shipping and handling costs for orders within the U.S. are $10 for the set. Shipping and handling costs for international orders are US$30 for the set. Print a fax order form.