TIMSS 2007 Contextual Questionnaires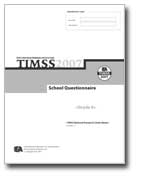 Learning takes place within a context and not in isolation. There are numerous contextual factors that effect studentsí learning, for example, type of school, school resources, instructional approaches, teacher characteristics, student attitudes, and home support for learning contribute heavily to student learning and achievement. For a fuller appreciation of what the TIMSS achievement results mean and how they may be used to improve students learning in mathematics and science, it is important to understand the contexts in which students learn. TIMSS in every cycle collects a range of information about these contexts for learning by administering background questionnaires to students, teachers, school principals, and curriculum experts, which, together with assessing studentsí performance in mathematics and science, provide a rich source of data on student achievement.
The TIMSS 2007 Contextual Questionnaires are based on the Contextual Framework, which encompasses five broad areas on which information is collected:
Curriculum
Schools
Teachers and Their Preparation
Classroom Activities and Characteristics
Students
Just as the mathematics and science frameworks describe what should be assessed in those areas, the contextual framework identifies the major characteristics of the educational and social contexts that were studied with a view to improving student learning. The complete TIMSS 2007 Contextual Framework can be found in the TIMSS 2007 Assessment Frameworks.
Student Questionnaires
Each student in the selected class completed a Student Questionnaire. The questionnaire included questions about home resources, languages spoken in the home, students' learning habits both inside and outside of school, students' self-concept and their attitudes towards mathematics and science, classroom instructional practices related to teaching mathematics and science, and school safety.
Teacher Questionnaires
Teachers of the assessed classes responded to the Teacher Questionnaire. The questionnaire focused on activities and materials used for mathematics and science instruction and the assessment of students' performance in the subjects. Teachers were asked to refer specifically to the class of students selected for the TIMSS 2007 assessment. Teachers also answered questions about their professional preparation and experience in teaching mathematics and science.
School Questionnaires
The principal of each school sampled for TIMSS 2007 completed a School Questionnaire. Principals answered questions about the emphasis on the mathematics and science curriculum in the school, the availability and use of materials to teach mathematics and science, and whether the school provided programs and services that involve the students and their families. Additionally, the questionnaire asked school principals general questions about their school's demographic characteristics, resources, and environment.
Curriculum Questionnaires
The TIMSS 2007 National Research Coordinator within each country was responsible for completing the Curriculum Questionnaire. Questions primarily centered on the defined national or regional curriculum in fourth and eighth grade, including what it prescribed and how it is disseminated. NRCs also answered questions about requirements for teachers and how teachers are informed about the mathematics and science curriculum.
Download Questionnaires
Each of the TIMSS 2007 contextual questionnaires can be downloaded free of charge below.
Publications are available in Portable Document Format (PDF). You may need to download a copy of Adobe Acrobat Reader© to enable you to read and print the reports.

Download all questionnaires for:
Download the questionnaires separately:
Fourth Grade
Eighth Grade