PIRLS 2006 User Guide
for the International Database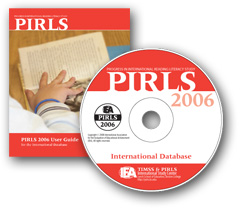 Edited by Pierre Foy and Ann M. Kennedy (2008), Chestnut Hill, MA: TIMSS & PIRLS International Study Center, Boston College.
Publications are available in Portable Document Format (PDF). If you need to download a copy of Adobe Acrobat Reader, which will enable you to read and print the reports, press the Acrobat icon.
The PIRLS 2006 User Guide for the International Database is also available in a printed and bound volume (Book with DVD), and as a DVD only, which can be ordered for a fee. Shipping and handling is $5 per book for orders within the United States. International orders require US$15 per book for shipping. Print a faxable order form.
Download the PIRLS 2006 International Database and User Guide Files
SOURCE: PIRLS 2006 Assessment. Copyright © 2007 International Association for the Evaluation of Educational Achievement (IEA). Publisher: TIMSS & PIRLS International Study Center, Lynch School of Education, Boston College.
Please note that the IEA cannot authorize the use of texts or items that include third-party copyrighted materials (e.g., reading passages, photographs, images). Users of any third-party copyrighted materials must seek and receive copyright permission from the owner of the content as indicated in the copyright citation line.

*Note (02/11/2013): A new approach to scaling the reading purposes and processes was introduced in PIRLS 2011 to enhance measurement of trends over time in these domains. This same approach has been applied retrospectively to the PIRLS 2001 and 2006 reading purposes and processes so that these data correspond to the trend results presented in PIRLS 2011 International Results in Reading. All SAS and SPSS data files have been updated to reflect that change. Please note that the overall reading achievement scores for PIRLS 2001 and 2006 remain unchanged.